You are here:
InFellowship
>
Online Giving through InFellowship
Online Giving through
InFellowship
Online Giving allows your attendees and members (or any visitor to your website) the opportunity to make a contribution to your church. This convenient feature is great for promoting faithful stewardship. Contributors can make a one time gift, create a schedule for continuous giving, manage or view existing schedules, view their contribution history, and print contribution statements.
Note: A payment gateway is required for the church in order to accept contributions online. See Getting Started with Online Payment Processing for more information.
In order to give online, contributors must create an InFellowship account and after logging in, the contributor will see a link called Your Giving if this feature has been turned on (see Enabling Online Giving for more information).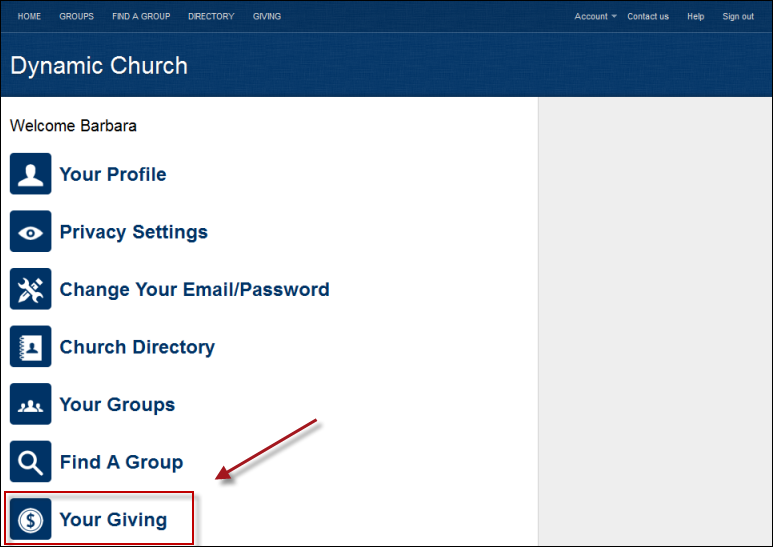 Your Giving gives a contributor the ability to manage his contributions. He can view Giving History, Giving Schedules and Download a statement. He can also select Give Now or he can select Schedule Giving.

The Give Now button allows the contributor to give a one time, immediate gift to any fund designation in the amount he chooses.
Choosing Schedule Giving allows a contributor to select a fund designation and amount he wants to contribute as well as designate a future date and/or set up a giving frequency. He can give to additional funds by selecting Add another. Once the information has been entered, the contributor selects the Continue button as shown in the image below.
Note: In either Give Now or Scheduled Giving, contributors may give to any number of fund designations in a single easy transaction.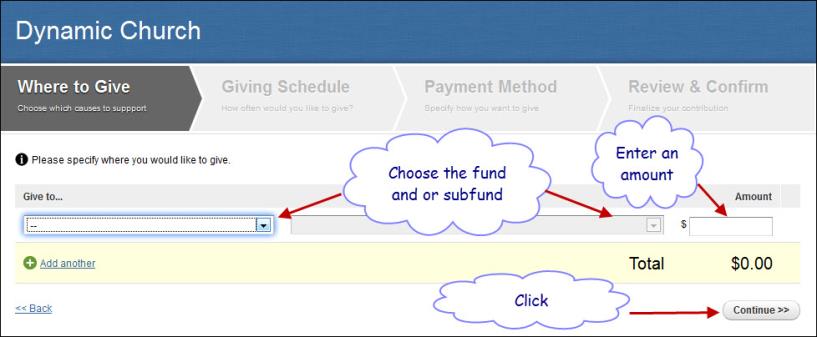 The Giving Schedule screen gives the contributor the ability to choose how often the money is taken out of his account.
The schedule options include:
Once
Monthly (which is the default)
Twice monthly
Weekly
Every two weeks.
The contributor must choose a start date. An end date is not necessary if he wants the contributions to process continuously. Once that decision has been made, he clicks Continue.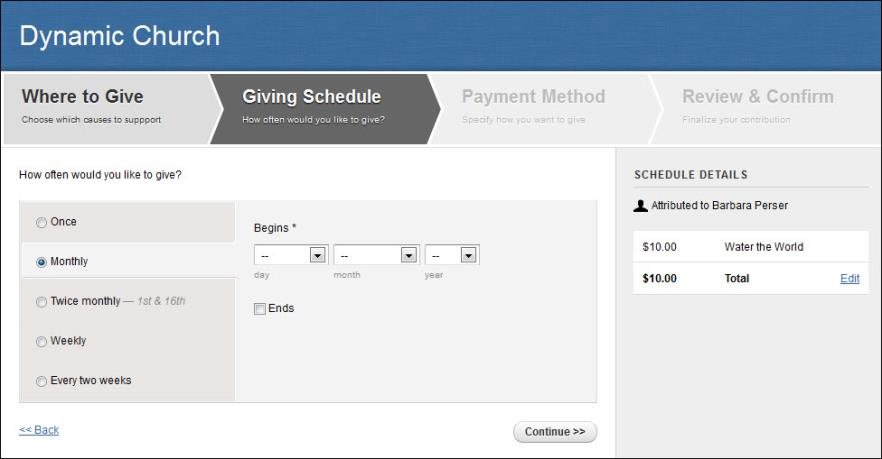 The contributor can make a contribution by Credit card or Personal check (echeck). The information required to complete each transaction is based on this selection. Required information is noted with asterisks. Once he has determined the payment method and entered the required information, he clicks Continue.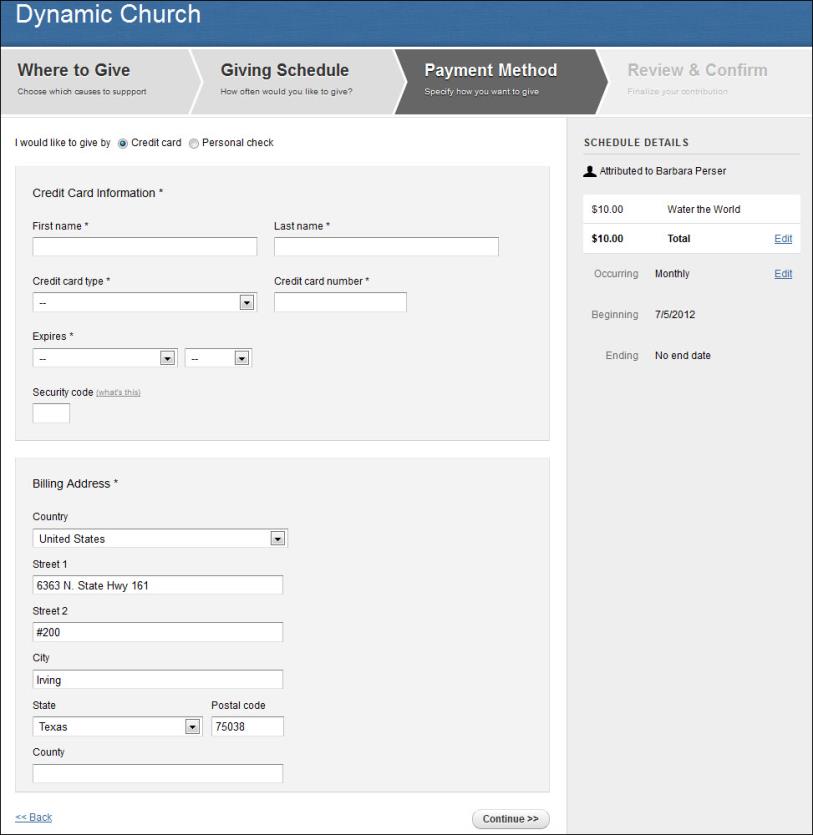 Note:When selecting the eCheck option, gifts can only be made through personal checking accounts. Business accounts are not supported at this time.
The final step in giving online is to review and confirm the gift. The contributor will have the ability to edit any incorrect information before the contribution is processed. When the information is correct, he clicks Process this schedule.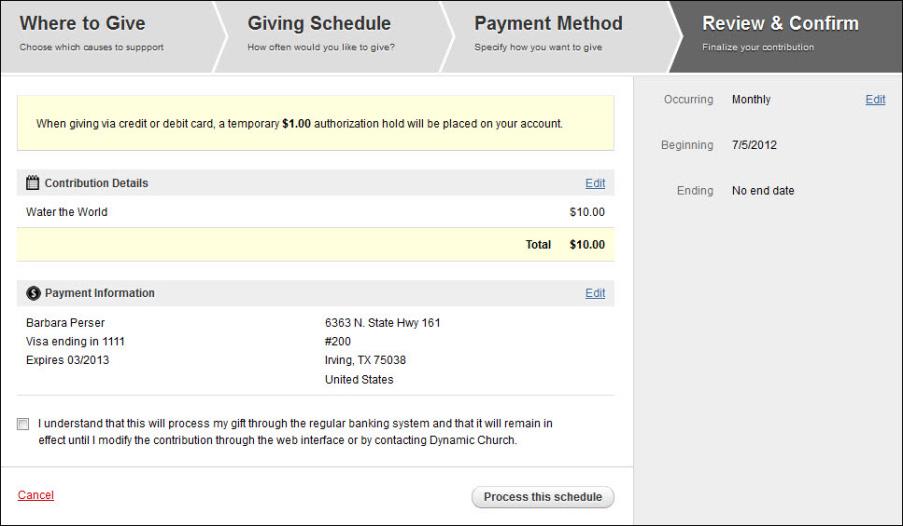 Once the user clicks Process this schedule, the schedule is displayed in Fellowship One and the money will be deducted from the contributors account using the frequency and the dates he selected.
Note: When your congregation edits a giving schedule, invisible to them we create a brand new one and remove the old; since you have the ability to see removed schedules you can always trouble shoot past giving against historical intent.
Considerations for Transitioning to
InFellowship

Online Giving

Following is a list of additional notes that may be helpful if you are transitioning to InFellowship Online Giving.
Credit Card and eCheck options adhere to the selections your church made when your payment gateway was configured. If you need to make changes to this, click the Help link in the upper right hand corner of

Fellowship One

and choose Open a Support Request..
Scheduling options have been greatly clarified and streamlined. Infrequently used options Yearly and Quarterly have been removed.
The ability to define a set number of contributions has been removed, but can still be achieved by setting an end date