Privacy Policy
We, at ACTIVE Network Faith, understand the need for privacy. We have added a feature to Fellowship One that will allow you to configure a custom privacy policy for use with the InFellowshipcongregational portal. . Click the Weblink tab in Fellowship One > InFellowship > Privacy or click Weblink > InFellowship > Features > Privacy to access the Privacy Policy Text Editor.

View Privacy Policy Screenshot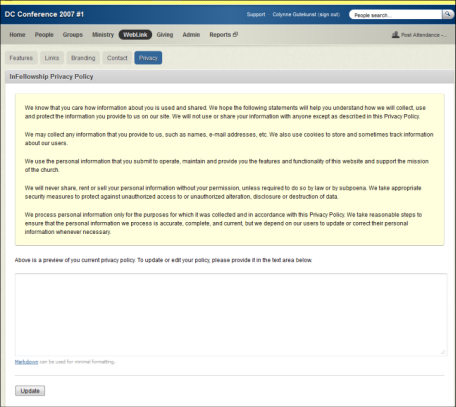 Tip! If you receive an error message when attempting to change the Privacy Policy, please go to Weblink > InFellowship > Branding > Publish. then you will have ability to edit the Privacy Policy.
We've put together a generic church privacy policy for you or you can create your own. To write a privacy policy for your church, simply put your curser in the white box and start typing! Be sure to click Update to save your work. Once you do, notice that the text is immediately changed in the preview box AND on your church's InFellowship website. Anyone who visits the InFellowship congregational portal will have the ability to view your privacy policy by clicking the Privacy policy link at the bottom of the screen.

View the InFellowship Privacy Screen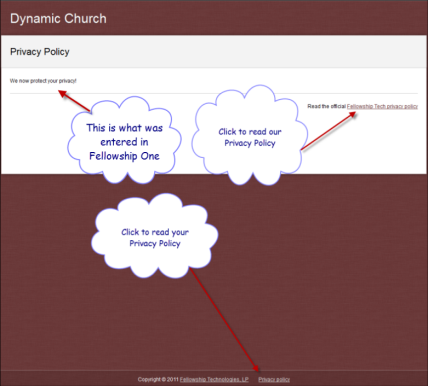 We've also added the ability to do some minimal formatting in the Privacy Policy text editor using formatting. Click here to see the Online Help for Markdown formatting. If you would like to use a generic privacy policy, you can copy and paste this one into the editor:
"We know that you care how information about you is used and shared. We hope the following statements will help you understand how we will collect, use and protect the information you provide to us on our site. We will not use or share your information with anyone except as described in this Privacy Policy.
We may collect any information that you provide to us, such as names, e-mail addresses, etc. We also use cookies to store and sometimes track information about our users.
We use the personal information that you submit to operate, maintain and provide you the features and functionality of this website and support the mission of the church.
We will never share, rent or sell your personal information without your permission, unless required to do so by law or by subpoena. We take appropriate security measures to protect against unauthorized access to or unauthorized alteration, disclosure or destruction of data.
We process personal information only for the purposes for which it was collected and in accordance with this Privacy Policy. We take reasonable steps to ensure that the personal information we process is accurate, complete, and current, but we depend on our users to update or correct their personal information whenever necessary.
Please use the Contact Us link at the top of the page for any questions about our privacy policy."
Note: If you have any questions or concerns regarding the wording of a website Privacy Policy, we recommend that you contact your legal counsel for advice.